WORKSHOPS & Special Events
Life is full of reasons to celebrate and Young Chefs Academy takes these celebrations to a whole new culinary level! Whether we are celebrating a special holiday, hosting a community event, holding a fundraiser, partnering with a national brand, or more ~ we will keep you "in the know" here! Check back often as we are always cooking up ways to celebrate with you!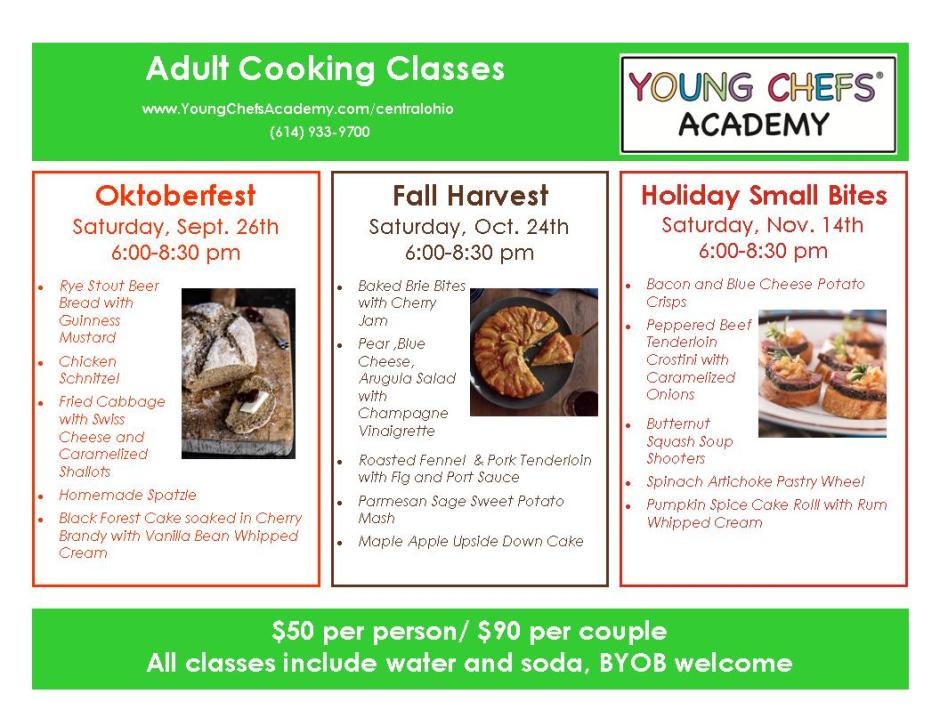 Fun Fridays
-
Every Friday is a cooking frenzy at Young Chefs Academy. Choose from many fun themes including Fall Baking, Burger Night, Halloween Cupcake Class, Japanese Steakhouse and many more! For a complete listing of classes and to register visit http://gahannaoh.youngchefsacademy.com/classes
Adult Classes-
Adults can get in on the fun too! Our popular adult series features hands on cooking with fun and delicious themes. BYOB welcome at all adult classes. Register below in the class schedule!

Gluten Free Class-
Join us for our fall Gluten Free Class for ages 5 and up! We're exploring Fall Flavors and making Cranberry Meatballs, Maple Brown Sugar Potato Skins and Pumpkin Chocolate Chip Brownies. Call us at (614) 933-9700 for more information!